Contact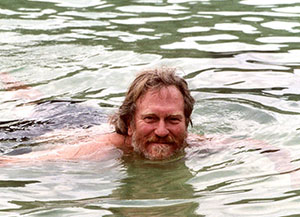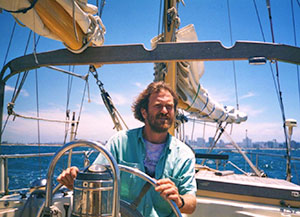 LeCain Smith, the sea captain behind Windrose Productions, recognized his personal path to awakening early in life as the call of the sea led him to adventures beyond the horizon. Over the years, his explorations on ever-larger sailboats took him on many voyages to distant lands. On most of these trips, he signed on a cat as a member of the crew. Over time, he mastered many skills, including teaching sailing and navigation, boat building, boat deliveries, yacht surveying, acting as a harbormaster, and chartering boats as a licensed captain.
Meanwhile, his interest in complementary and alternative medicine increased, and he spent untold hours on massage table, carrying out "experiential research" under the hands of many skillful practitioners. He also became the grateful recipient of generous instruction in yoga, qi gong, breathwork practices, and other gems of holistic healing.
During the 1980's, he built a 43-foot sailing yacht named Perelandra on which he completed a six-year voyage around the world, accompanied by his first mate Sheila and, yes, a cat named Chowder. The research he did about steel boats before and during her construction, resulted in the book Steel Away: A Guidebook to the World of Steel Sailboats, one of the few books on the subject, though now out of print. After coming home to Maine in the late 1990's, he produced Far Away, a video documentary about the South Pacific section of their voyage, and The Maritime History of Brooksville for the historical society in the town where he lived and from whose harbor he chartered Perelandra.
"Captain Lee," as he is known by friends around the world, returned from his adventures on the world's oceans committed to diving into his inner ocean, that realm of innate wisdom that exists inside us all, one that he was now ready to enter. His experiences in that voyage of discovery led to his heartfelt desire to help others realize true holistic healing and inspired him to write the book Our Inner Ocean, a compendium of revitalizing self-care practices and physical and energetic treatment modalities.
Having returned to his native Maine, Capt. Lee took up the storytelling tradition of mariners of old. He called upon his trusted companion, the sea cat Chowder, to help him bring the complete tale of their world cruise to readers both young and old. Chowder was delighted to share her own view of things, and thus was born the three-part series – The Amazing Adventures of the Sea Cat Chowder.
LeCain Smith / Windrose Productions
info@windroseaway.com

You can connect and place an order for paperback version through:
Amazon Books
Bookshop
Bowker – Book2Look
Alibris
Indiebound
Thriftbooks
Overdrive (for libraries)

For E-Boook orders:
Payhip
D2D
Amazon
Barnes and Noble
Apple books
Scribd

For orders through countries outside of the USA select Kobo

For more info you can also go to:
Goodreads
Book Life
Points East Review (Far Away Islands of Paradise)
Points East Review (Sailing South 'til the Butter Melts)
WERU - Boat Talk interview
Faceboook
Instagram


If you want to contact the author send an email to info@windroseaway.com

YOU CAN ALSO - purchase an EBook version or obtain free printed copies of Our Inner Ocean for editorial reviews by contacting: Balboa Press

ALL E-BOOKS THAT ARE PART OF THE SERIES: THE AMAZING ADVENTURES OF THE SEA CAT CHOWDER, CAN BE PURCHASED FROM THE PRODUCT PAGE ON THIS WEBSITE. I USE A SERVICE CALLED BOOKFUNNEL TO DELIVER MY E-BOOKS. IT MAY TAKE A FEW STEPS DEPENDING ON YOUR READING DEVICE. IF YOU HAVE TROUBLE AFTER YOU CLICK THE BUY NOW BUTTON, JUST CLICK THE HELP LINK AT THE TOP OF THE BOOK DOWNLOAD PAGE AND BOOKFUNNEL WILL SOON HELP YOU.

The E-Book version of Sailing South 'til the Butter Melts, Far Away Islands of Paradise, and Westward Beyond the Horizon are now available for direct download from this website.
Other Useful Links:
Society of (SCBWI)
MWPA
Maine Writers
One Light Healing Touch
Tibetan Cranial