NEW RELEASE NOW AVAILABLE
Far Away Islands of Paradise
As told by Chowder to the author LeCain W. Smith
Second in the series: The Amazing Adventures of the Sea Cat Chowder
After almost two years coastal cruising down the west coast of the Americas to Ecuador and the Galapagos Islands, Chowder finds herself on the verge of venturing out on long ocean crossings through the South Pacific. With these crossings sometimes lasting over two weeks between landfalls at remote tropical islands, like the enchanted Easter Island, Chowder learns what it's really like be an able-bodied ocean sailing sea cat.
In the following pages Chowder shares how she and the crew managed to handle two years of amazing experiences on land and at sea, while cruising with the trade winds through the South Pacific to New Zealand, venturing further through the volcanic islands of Melanesia, crossing the equator to Micronesia in the North Pacific Ocean, and voyaging back south through the Solomon and Coral Sea to Australia. Besides having a great time eating fresh fish, playing with birds, being surrounded by dolphins, finding wonderful scenery and wildlife, and watching local inhabitants practicing ancient traditional ceremonies, Chowder had to endure challenging situations involving invasive insects, flying fish, lightning strikes, volcanic eruptions, rough seas, cyclones, and swimming in sea water. However, Captain Lee and mate Sheila always tried to keep a watchful eye on her. Plenty of amazing adventures to purr about!
This book, illustrated by the author, is appropriate for middle-grade children, young adults, sailors of all ages, and any adult with the heart of a child.
We finished book one the other night, and we really enjoyed it. My kids ate it right up! Although my kids are a little younger (age six and seven) than your target audience, they definitely appreciated Chowder's narration and the humor throughout the story. We loved the book and look forward to the next volumes!

Table of Contents
PART 1 – CRUISING WITH THE TRADE WINDS
Chapter 1 – My First Long Ocean Crossing
Chapter 2 – Easter Island Adventures
Chapter 3 – Pitcairn and the Tuamotus
Chapter 4 – Life on some Trade Wind Islands
Chapter 5 – Fia Fia in Samoa
Chapter 6 – In an Island Village
Chapter 7 – New Potatoes
Chapter 8 – Difficult Moments
Chapter 9 – Remarkable Times in Tonga
Part 2 – DOWN UNDER AND BACK TO THE TROPICS
Chapter 10 – A Cold Ocean Crossing
Chapter 11 – The New Zealand Cat Patrol
Chapter 12 – Following our Dreams in Kiwi Land
Chapter 13 – Bula Bula in Fiji
Chapter 14 – One Big Fella Puss Cat
Chapter 15 – The Earth Shakes and Rumbles
Chapter 16 – Bad Bugs and Other Creatures
Chapter 17 – Unexpected Activities
Part 3 – THROUGH MICRONESIA TO THE LAND OF OZ
Chapter 18 – The Worst Crossing Ever
Chapter 19 – Finding Our Favorite Paradise
Chapter 20 - Budi Budi and Beyond
"Once again Captain LeCain Smith has given children (and adults) a wonderful invitation to board his sailboat and travel the high seas; this time from the Galapagos Islands to the "Land of Oz," an adventure narrated by a sea cat named Chowder.
As was true in his first book "Sailing South 'til Butter Melts," LeCain Smith's readers learn the meaning of nautical terms, live through harrowing adventures, meet people from many different cultures, explore beautiful landscapes, encounter exotic animal and plant life, and develop a deeper sense of the wonder of the world, all through the "wisdom" and the eyes of Chowder, who brings both laughter and learning to the reader.
As a retired elementary school teacher and a grandmother of four grandsons, I heartily recommend this book to readers of all ages. But I would especially encourage parents and grandparents to read it aloud to the children in your life. You will enjoy the story and the illustrations together, which is the best way to enjoy anything!"
—Elaine Hewes
The sea cat Chowder continues her adventures
July 2022 Points East Magazine
By J. Albert Mann
Far Away Islands of Paradise
As told to the author LeCain W. Smith, by the Sea Cat Chowder, 2022; 176 pp., Windrose Productions.
Written from the point of view of a cheerful and chirpy cat, "Far Away Islands" is the second book in a three-part series recounting the adventures of Chowder the sea cat. The first book – "Sailing South 'til the Butter Melts" (reviewed August 2021) – chronicled the original leg of Chowder's adventure sailing from Washington, down the coasts of California and Baja to Costa Rica, through the "Sweet Gulf," and across the tropical convergence zone. And if, after reading "Sailing South," you thought you couldn't love Chowder more, you will be wrong.
Under the direction of Captain Lee and First Mate Sheila, the Perelandra (a 43-foot sailboat built by our captain) sets sail across the Pacific Ocean. It has been two years since Perelandra's crew embarked on their voyage to circumnavigate the globe, and although our narrator is now a seasoned sailor, she is still the same earnest and curious cat we met in the first book.
From Easter Island, where a gale 10,000 kilometers away produces waves that almost capsize the crew, to the islands of Micronesia, where a long nap tops the "to do" list, Chowder fills the reader's head with equal parts harrowing tale and fascinating fact. Pitcairn, Tuamotus, Tahiti, Samoa, Tonga, Fiji… Captain Lee, First Mate Sheila, and Chowder dance with locals, eat sea cucumbers, stand on the edge of a volcano and share the tradition of Halloween with new friends. But, of course, no sailing adventure would be worth the salt in the sea if it didn't include sharks, dolphins, and whales, and Chowder knows her adventure.
Arriving late in the evening at one small island yet remembering to share some of their fresh produce with the locals before hitting their bunks, Chowder informs us, "Practically every morning after that, someone would bring a gift of freshly caught fish to our boat. What more could a cat want?"
Yes, Chowder. What more, indeed!
I am an official One Bigfella Puss Cat fan and can't wait to pull up anchor, hoist the sails and take off once again into that wild blue yonder with Chowder, Captain Lee and First Mate Sheila. Next up… the Far East, the Indian Ocean and Africa.
Meow!
J. Albert Mann is a disability activist, award-winning poet, and author of eight published novels for children. She has an MFA from Vermont College of Fine Arts in Writing for Children and Young Adults and is the Partner Liaison for the WNBD Internship Grant Committee.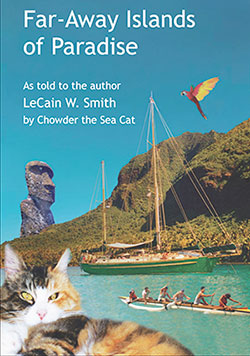 Paperback ISBN 978-0-9615508-6-8
Published 2022
Price $17.99, plus shipping and handling
Media Mail ($3.90 shipping and handling)

Package Discount Deal
If you would like to purchase all three books in the Chowder series together, then you can order them using the button below.
Price: $48.00 ($4.90 shipping and handling)
Although you can order through distributors, your preferred online retailer, or local bookstore, we appreciate it when you order it directly from us here.

---
E-Book ISBN 978-0-9615508-5-1
Published 2022 Price $6.99
Although this E-Book version is available through online retail outlets like Amazon, Apple, Kobo, etc., you can use the BUY NOW BUTTON below to quickly get a direct download to your device
Buy Now
I USE A SERVICE CALLED BOOKFUNNEL TO DELIVER MY E-BOOKS. IT MAY TAKE A FEW STEPS DEPENDING ON YOUR READING DEVICE. IF YOU HAVE TROUBLE AFTER YOU CLICK THE BUY NOW BUTTON, JUST CLICK THE HELP LINK AT THE TOP OF THE BOOK DOWNLOAD PAGE AND BOOKFUNNEL WILL HELP YOU.
If you want to contact the author, send an email to info@windroseaway.com.