Our Inner Ocean – A World of Healing Modalities
Good health is something we all aspire to, but it's so much more than just being free of disease. A perfectly functioning body, tranquil mind, and vibrant spirit working together harmoniously create the joy and happiness that put the "good" in good health and the "worth" into a life worth living. Described in this book are ancient and new holistic modalities of practitioner-applied bodywork and revitalizing self-care practices that illuminate our human potential and awaken our ability to attain and maintain perfect health and well-being. These modalities act as a springboard from which to dive into our inner ocean, the realm of wisdom within that is entered by making the body, breath, and energy our allies. This mystical space of awareness, intuition, peace, and love can become the resting place of the spirit, subtly working its magic on ourselves and others.
Bodywork has long been recognized as a way to help people feel better physically, but the magic of touch can also help us tap in to the wisdom of the body, discover the power of the energy that permeates it, and evoke its innate healing ability. Self-care practices such as yoga, qi gong, breathwork, and meditation help us become our own healers. When we pass through these portals into the inner ocean, we can reduce stress and pain, release blockages, prevent and resolve dysfunctions, and ignite our spiritual nature. And in doing so, we make the world a better place.
Author LeCain W. Smith has spent many years sailing the world's waters, and his inner ocean shares the voice of the sea and its stories with this book and its readers. As a retired sea captain, the author portrays "our inner ocean" as a place within all of us that is worth exploring. This is considered a place where we can release blockages, resolve obstructing issues, discover our true nature, and awaken the innate ability to actualize our fullest potential as humans.

Three Excerpts from book:
"Even though life will continue to throw situations at us that may cause suffering, any imbalance or dysfunction can be dealt with as they occur, making the journey through life more comfortable and enjoyable. Symptoms of ill health signal you to wake up and become more attentive to the needs of the body. They alert you by directing your attention to the problems that need to be solved. Rather than seeing ill health as an obstacle to be controlled or eliminated, it is better to be grateful for this warning sign from the body's wisdom and to heed its request for change."
"The body could be said to have a mind of its own, full of wisdom. It is not a frozen anatomical structure but a river of energy, with messages from each system flowing out to all the others all the time without our conscious direction. Knowledge and memory, both physical and emotional, reside in the body itself, often deep within the layers of each of our organs, right down to the cellular level. Our cells are constantly being spoken to by this flow of energetic intelligence, and in response, they offer their own wisdom. If we allow it, even every cell can become a little powerhouse of healing."
"All our parts are influenced by each other, and only when all aspects of our being are integrated and working harmoniously together at their fullest potential can we attain optimal health and well-being. By treating, preventing, or releasing any dysfunction, bringing something fresh and worthwhile into the body, and allowing the emergence of previously hidden healing capacities to fill the heart, reclaim the body, pacify the mind, and uplift the spirit, we can use this body-mind connection to our greatest advantage. And by tapping in to, cultivating, and revitalizing the vital energy and the wisdom held in the body, we can become more present, integrated, self-aware, and open to a dynamic reality free from the chains that bind us to unhappiness and ill health. Diving deep into our inner ocean can bring us to a more embodied state in which we have a conscious connection with the self as a unified whole.
Contents of Book
Acknowledgments
Preface
Introduction
Part One — Practitioner-Applied Bodywork
1. Health, Healing, and the Power of Touch
Becoming More Embodied
The Role of Bodywork
The Results
2. Considerations Before Bodywork
3. The Bodywork Session
Before a Treatment
During a Treatment
After a Treatment
4. The Skilled Practitioner
Considering Competence
The Practitioner and the Healing Process
5. The Art of Being a Good Recipient
Preparing for a Session
During a Treatment
Follow-Up Care
6. A World of Applied Bodywork Modalities
I. Structural Therapies
II. Functional Reeducation Therapies
III. Substance- and Implement-Assisted Therapies
IV. Aquatic Therapies
V. Spinal Therapies
VI. Abdominal Therapies
VII. Trauma-Centered Therapies
VIII. Energy-Based Therapies
IX. Energy Field and Spiritual Therapies
X. Special Therapies
Some Final Thoughts About These Modalities
7. Progressive Body-Mind Psychotherapies
Part Two — Self-Directed Healing Practices
8. Breath Is The Way
Some Basics About Conscious Breathing
Enhancing Breath Awareness
Six Types of Breathwork
Four Phases of the Breath
A Compilation of Breathwork Therapies and Practices
A Collection of Specific Breathing Techniques
Breathe in the Wind
9. Energy Flow Is the Key
Awakening Awareness of the Vital Life Force
The Divine Cosmic Connection
The Manifestations of Energy
Energy Fields and Energy Bodies
The Human Energy Anatomy—Centers, Pathways, and Points
Working with Energy
Bodywork and Energy
Two Powerful Ancient Practices
Final Thoughts
10. Making a Shift in Consciousness
Struggles and Obstacles
Awakening Through Change
Making the Shift Through Meditation
The Practice of Meditation
Some Forms of Meditation
Finding Wholeness
11. A World of Transformational Self-Care Healing Practices and Exercises
Aerobics to Yoga
12. Ripples From My Inner Ocean
Our Life's Work
Obstacles As Opportunities for Transformation
Bringing It All Together with the Fabulous Five
Seeking Happiness
A Final Blessing
Appendix: Complementary and Alternative Health Care Resources
Index
Our Inner Ocean — Book Reviews
(from Amazon and other sources)
All 5.0 out of 5 stars
Just sublime.
By A. Enfancillages June 8, 2017
Just sublime. A wealth of information, linked to a real understanding of the modalities presented all over the world of Integrative Health.
This book is a must for anyone working in that field.
Alban - Ex. Director of wellnessleadership.org
...........
As more and more of us choose to take responsibility ...
By Anthony Ferraraon February 3, 2017
As more and more of us choose to take responsibility for our own health (as opposed to "ask your doctor" for the latest drug), OUR INNER OCEAN arrives with a cornucopia of information to help us on this journey. Different health challenges call for different healing modalities; this well researched work can guide us to a modality, a practitioner, or self care practice. OUR INNER OCEAN provides food for the soul and medicine for the body - a win-win for the person who values his health. This is a resource that will serve me for many years.
............
A superb book with a great title!
The most complete, well researched, superbly written compilation of bodywork & healing I have ever seen, LeCain Smith brings us this extensive description of healing modalities from around the world. His love of healing hands is obvious as he studies, examines and experiences some of the most obscure as well as likely known healing works from both civilized and primitive worlds. His heart really goes into this piece of extensive work, you can clearly tell. Many of the descriptive modalities sound as if he's experienced them very personally and has benefitted very positively. Having said that, I feel he presents an objective overall view, allowing the reader to makeup his or her own mind as to their personal level of continuing pursuit or interest. I would highly recommend this book for those interested in all healing modalities either as an experienced practitioner or as someone new to the world of alternative methods of healing.
By Hope Havilon on January 28, 2016
............
A treasure trove of treatments for healing.
The author clearly shows his love for humanity by garnering and briefly explaining more types of treatments then perhaps any other book in print. From around the globe- breathwork, body work, energy healing, aquatic therapies, abdominal therapies, consciousness raising therapies-this book is a remarkable compilation. I can only believe this author spent several thousand hours researching these treatments. As a value added feature the author offers his own insights and wisdom about the use of these modalities, as well as links to learn more about each of these treatments.
Kudos to the loving kindness that inspired this author to offer such a great resource for those seeking ways to deal with their physical, emotional, energetic, spiritual, and psychological troubles. Thank you Mr. Smith!
............
I highly recommend this book!
I feel blessed that, as a woman in my late 60's I am strong and healthy. This may partially be due to good genes, or simple luck, but I believe that 25 years of acupuncture treatments, my practices of Taiji, Qi Gong and yoga, and some regular massage are the ways I have found to comfort and support my life in this body. I feel blessed to have found them. My curiosity about other alternative healing methods led me to this timely, new book. A lengthy encyclopedia of both practitioner-applied and self-care practices, it is fascinating and useful for any layperson who seeks relief from a variety of physical, mental or spiritual issues, and is weary of the limitations of allopathic medicine. The author, passionate about his subject, even guides the reader how to find and choose a practitioner, prepare for treatment, "be a good recipient" and follow sessions with attentive after-care.
But this isn't only a guide for laypeople---it is a must for any alternative healer's library as a reference and tool. It would be a most useful book in massage and breath work classes. Any student of yoga could benefit from perusing the descriptions of more than 50 kinds of yoga that are detailed here! In addition, the author's unusual sailing background enables him to entertain the reader with occasional sea stories, which sets the work apart from your usual academic reference manual.
...........
Invaluable reference on healing modalities
LeCain Smith has done a masterful job, spending years and thousands of miles crisscrossing the country to compile this amazing compendium of Healing Modalities, OUR INNER OCEAN. We at ONE LIGHT HEALING TOUCH (www.OLHT1.com), feel honored to have been included in his work. Readers can pour over the range of subjects and learn special healing insights along with rich information on each and every healing topic. It is an invaluable reference work for all those in the alternative healing field.
By Penny & Ron Lavin on Nov 26, 2014.
............
Yes! This book covers a world of important and helpful information and all under one cover!
The author of "Our Inner Ocean" has organized detailed information into manageable categories of vast breadth within the world of Holistic Healing. He has provided distinction between countless Practitioner-Applied Bodywork and of Self Directed Healing Practices.
Additionally, Mr. LeCain Smith has provided perspective on what health and healing really is, the importance of allowing for shifts in consciousness as a means for personal evolution and wellness. He guides us in what to expect within each session, how to prepare for a session, how to get the most within a session and how to care for the self after a session.
Mr. Smith clearly put many hours into researching all of these modalities. I am grateful to have this book as a resource.
Well done!
By Gayle M. Perkins on December 2, 2014
............
So many fun possibilities
In such a time of world chaos, what a refreshing cup of tea this encyclopedic manual of healing offers us ! Personally being acquainted with the author has been an honor, seeing first hand the intense focus and patience required to create such a tome. When I am in need of moving toward positivity in my moods...here at my fingertips I find so many fun possibilities of therapeutic modalities to educate myself with. I have been working in the Body/Mind/Energy fields for over 40 years and continue to be amazed at what lies ahead in the healing professions. I highly recommend this book , to lay persons and healers alike. I have the paperback version.
By Jeanne Gaudette on June 12, 2015
...........
A great resource, refreshing and empowering.
Our Inner Ocean is a great resource for people seeking to understand and experience personal healing available through the integration of body, mind and spirit. LeCain Smith shares insights into the history, practice and benefits of daily practice to create change and transformation. It is refreshing to be presented with a broad range of alternative approaches and to be empowered to choose for ourselves what works rather than to have one particular approach promoted. The book reflects the author's intensive personal search, extensive research, and love for humanity. What a commitment! Thank you.
By Richard D. Tryon on June 15, 2015
Small print disclaimer - The author of this book does not dispense medical advice or prescribe the use of any technique as a form of treatment for physical, emotional, or medical problems without the advice of a physician, either directly or indirectly. The intent of the author is only to offer information of a general nature to help you in your quest for emotional, physical, and spiritual well-being. In the event you use any of the information in this book for yourself, which is your constitutional right, the author and publisher assume no responsibility for your actions.
25% discount on Our Inner Ocean!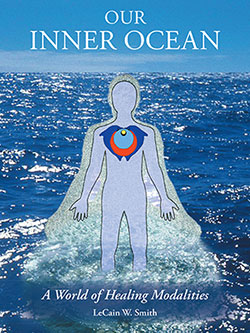 ISBN 978-1-4525-1868-8
Published 2014, 510 pages
Price $25.50 $33.99 plus shipping and handling (on sale as of January 2020)
Priority Mail ($12.75 shipping and handling) Media Mail ($5.25 shipping and handling)
E-book version is available for the price of $7.99 at various online retail outlets such as Amazon
A compendium of complementary holistic healing modalities of practitioner-applied bodywork and rejuvenating self-care practices that ignite our innate capacity for healing and optimal well-being.
Video recording of an author interview