NEW RELEASE NOW AVAILABLE
Sailing South 'til the Butter Melts
As told by Chowder to the author LeCain W. Smith
The first in the series: The Amazing Adventures of the Sea Cat Chowder
Most cats don't dream about sailing around the world. Neither did Chowder. But in the 1990's, she somewhat reluctantly joined her caregivers, Captain Lee and mate Sheila, on a voyage that lasted six years, covering over 45,000 miles while visiting foreign lands and remote paradise islands.
In this first of three books based on her true life sea adventure, Chowder reveals how she left her home on land and got her sea legs onboard a forty-three foot sailboat that Lee built. While they sail down the west coast of the Americas to the enchanted islands of the Galapagos, she shares how she handles each experience and adapts to the variety of situations that occur during her first two years at sea. Her apprehension turns into a sense of curiosity and wonder as she is transformed into a global sea cat by the challenges of rolling seas, large freak waves, lightning, storms, sharks, ugly insects, wild jungle animals, and the dangers of pirates. Yet, she also purrs about the pleasure of eating fresh fish, playing with birds, encounters with singing parrots, dancing dolphins, spouting whales, and friendly folks from many cultures. She loves to give the readers the inside scoop on life aboard a cruising yacht. Come sail away with her!
This book, illustrated by the author, is appropriate for middle-grade children, young adults, sailors of all ages, and any adult with the heart of a child.
We finished book one the other night, and we really enjoyed it. My kids ate it right up! Although my kids are a little younger (age six and seven) than your target audience, they definitely appreciated Chowder's narration and the humor throughout the story. We loved the book and look forward to the next volumes!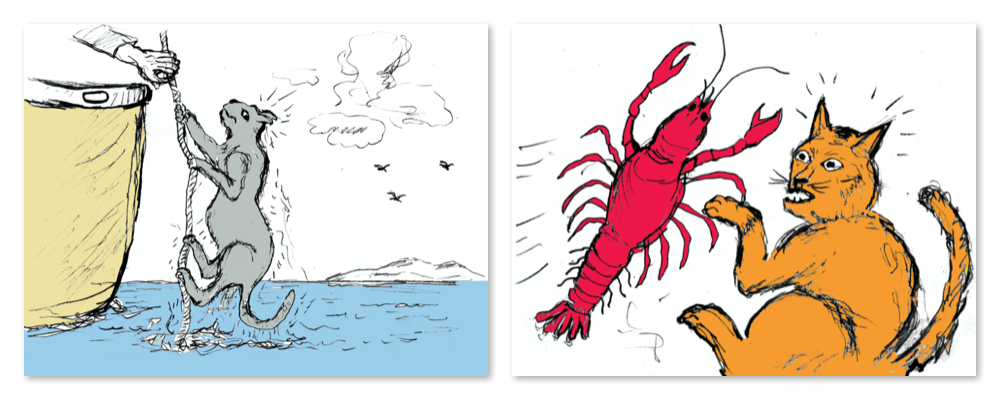 Table of Contents
INTRODUCTION
PART 1 – GETTING MY SEA LEGS
Chapter 1 – Living on the High Seas
Chapter 2 – The Cruising Life for Cats
Chapter 3 – The Tale of the Sea Cat Scruffy
Chapter 4 – Getting Ready on Land
Chapter 5 – The Big Move to the Water
Chapter 6 – A Shakedown Cruise
Chapter 7 – Into the Wild Blue
Chapter 8– Lively Times at Sea
Chapter 9 – California Coastal Cruising
Chapter 10 – Happy and Sad Times in San Diego
Part 2 – WANDERING THROUGH CENTRAL AMERICA
Chapter 11 – Sailing Down the Baja Coast
Chapter 12 – Unique Animal Encounters
Chapter 13 – Meeting Some Extreme Challenges
Chapter 14 – Jungle Life in Costa Rica
Chapter 15 – Fun for All in the Tropics
Chapter 16 – Playing in Panama
Chapter 17 – Ecuador and the Isles of Enchantment
Points East August 2021

A cat's-eye view of the cruising experience
Sailing South 'til the Butter Melts
As told to the author LeCain W. Smith by the Sea Cat Chowder

Review by J. Albert Mann
For Points East

Written from the point of view of a large, fluffy cat, Sailing South is the first book in a three-part series recounting the adventures of Chowder the sea cat. We first meet Chowder curled up a in warm and cozy cabin on the coast of Washington near the Strait of Juan de Fuca. Thankfully for the reader, this is not where she stays.
Chowder finds herself aboard Perelandra, a 43-foot sailboat built by our narrator's owner "Lee" (Captain LeCain). Lee, writing as his cat, gives us the first leg of an exciting sailing voyage as he, First Mate Sheila, and their sea cat circumnavigate the world. Chowder is an earnest and curious girl whose voice is both since and engaging. Like any good sailor, Chowder begins her tale with a boat (not yet built), and then guides us through practicing her sea legs, the exciting moment where hull meets water, a first cruise, and then finally...into the wild blue. When our courageous, but cautious heroine wonders where they're going, First Mate Sheila responds, "they're sailing south 'til the butter melts." And so...Chowder's journey begins.
The crew takes us from Washington, along California, down the Baja coast, on to Costa Rica, through the "Sweet Gulf" to Panama, across the tropical convergence zone and more. Meanwhile, the crew stops to throw a line in, see some sights, and engage in a few adventures big and small along the way. Chowder explains that all she needs is "good fresh food, some playful activity, and a cozy place to sleep." She ends up with a lot more: dolphins, cockroaches, lightning storms, and of course the requisite fall in the drink.
"So many amazing things happened to me that I feel compelled to share them."
Yes, Chowder. Amazing! I'd also add, absolutely charming. This sea cat's story had me on a reach. Looking forward to pulling up anchor with Chowder, Captain Lee, and First Mate Sheila again very soon.

-----------------------------------------------

Rarely do children's books provide adventure, humor, education, wisdom and insight all in one story, but LeCain Smith's book "Sailing South 'til the Butter Melts" does just that, and all of it told from the perspective of "one big fella pussycat" (otherwise known as Chowder) as she recounts her adventures on the high sea with her sailing "mates" Lee and Sheila. Chronicling the first part of a six-year circumnavigation of the world, Chowder "keeps a log" of the many sights, sounds and experiences she and her mates have as they travel from the coast of Washington State to the Galapagos Islands. And through those log entries readers are invited to see what Chowder sees, to feel what Chowder feels as she encounters the challenges of fog, storms, and volcanic ash as well as the beauty and wonder of bird life, sea creatures, and land animals along the way.
LeCain's illustrations of Chowder's adventures add humor and delight to the story. And his ability to "sneak in" nautical terms along with their definitions, even as Chowder is telling of her experiences, provides the rare combination of education and fun. Seven-year-old Gabe said he loved the pictures of Chowder doing "funny things," and nine-year-old Dylan said he liked reading about all the many animals Chowder saw on her journey. Both Gabe and Dylan enjoyed learning about the "poop deck."
I highly recommend LeCain's invitation to readers of all ages to travel the high seas with Chowder. Reading Chowder's log will make you laugh, wonder, learn, and long to begin such an adventure yourself. And not only that; it will also provide you with some beautiful words of wisdom such as these, "No matter how much you prepare for things, the unexpected can happen. There is always an element of risk. So it is best to stay positive, kind, and brave, while having some knowledge of how to care for yourself. That's my advice to other cats considering careers as traveling mariners."
Wisdom for us all I should think. Shared with humor and an openness to wonder. What more could one ask for in the times in which we live?

- Elaine Hewes
retired elementary school teacher

Sailing South 'til the Butter Melts is my kind of book. The chapters read like short stories full of whimsical adventure. It was a nice escape while I also learned new things about sailing. It's a perfect book to have for my guests to enjoy. A very fun read. Looking forward to the next book!

Signed,
~ A busy small business owner who lives with a cat on an island in Maine

-----------------

"The beautiful descriptions of scenes on board and enroute will warm you through the winter. There is also a strong message about taking care of the natural environment that will encourage the younger readers to take note."

- A. Fogarty
__________

"An engaging tutorial for young and old alike on what it's like to sail exotic ports and live on a boat."

- E. Richardson
__________

"Sailing around the world as told by the family cat will delight all readers and inform the uninformed about what it takes to sail for a few days or a few years. A great addition to YA fiction."

- C. Wilson

__________

SEE BOOK REVIEW IN AUGUST ISSUE OF POINTS EAST MAGAZINE at the top of this page.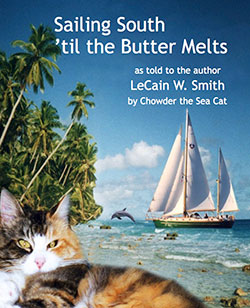 Paperback ISBN 978-0-9615508-4-4
Published 2021
Price $16.99, plus shipping and handling
Media Mail ($3.90 shipping and handling)

Package Discount Deal
If you would like to purchase all three books in the Chowder series together, then you can order them using the button below.
Price: $48.00 ($4.90 shipping and handling)
Although you can order through distributors, your preferred online retailer, or local bookstore, we appreciate it when you order it directly from us here.

---
E-Book ISBN 978-0-9615508-3-7
Published 2021 Price $6.99
Although this E-Book version is available through online retail outlets like Amazon, Apple, Kobo, etc, you can use the BUY NOW BUTTON below to quickly get a direct download to your device
Buy Now
I USE A SERVICE CALLED BOOKFUNNEL TO DELIVER MY E-BOOKS. IT MAY TAKE A FEW STEPS DEPENDING ON YOUR READING DEVICE. IF YOU HAVE TROUBLE AFTER YOU CLICK THE BUY NOW BUTTON, JUST CLICK THE HELP LINK AT THE TOP OF THE BOOK DOWNLOAD PAGE AND BOOKFUNNEL WILL HELP YOU.
If you want to contact the author, send an email to info@windroseaway.com.